Qui sommes-nous?
Nous exerçons le commerce d'antiquités militaires depuis plus de 40 ans et, participons, à ce titre, aux bourses et foires importantes, tant en Europe qu'aux USA. Nous sommes également présents aux ventes d'armes et pièces d'armure de par le monde.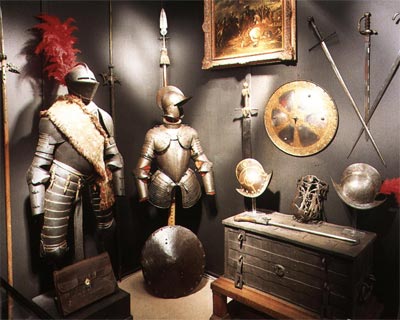 De ce fait, nous pouvons nous charger de vous trouver toute pièce manquant à votre collection ou que vous rêvez de posséder depuis toujours.
Si vous avez un thème de collection bien précis, faites-nous en part et nous vous préviendrons si nous trouvons un objet dans ce domaine.
Nous pouvons également vous aider à négocier au mieux votre collection car nous représentons la salle de ventes Czerny's située en Italie.
---
TVA BE433519625/Att. Armurier 2/21/09/0005
---
We are dealing in antique arms and armor for more than 40 years and are participating to the most important fairs and auctions in Europe aswell as in the States.
So, we are able to find the missing piece to your collection or the piece you are dreaming of since a long time!
Should you be looking for special items, please let us know!
We can also help you to negociate your collection as we are representing the auctioneer Czerny's in Italy.